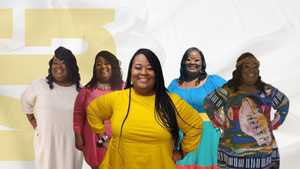 Hey Kingdom Woman!
You Belong To The KING of KINGS, Sis, You Should Show Up ACCORDINGLY!
"Serve God...and LOOK GOOD doing so!" ~Chakeyta Louvinia Chenel
Meet The CEO - Chakeyta Anderson
My name is Chakeyta Louivinia Chenel' and I am the owner and CEO of Kingdom Glamm'd Boutique. I am a young, vibrant Kingdom Woman and Pastor's wife. Passion for fashion and style is something that came to me effortlessly from an early age. With this amazing gift that God has given me, I am able to help other women beautify their temples while honoring the desire and need to remain modest. It's truly been a pleasure to share this gift with you.
I created this brand for ALL women, especially for the Kingdom Woman. I found that on many occasions, women in Ministry/Church "dull their glow." Oftentimes, they do this because of religious traditions and opinions. Contrary to the belief of tradition, I believe that if anyone should stand out and look good, it should be the Kingdom Woman. A Kingdom Woman should be able to stand up, stand out, and express herself freely and without judgment, all while keeping it KINGDOM!
I often tell women, "Chile" you belong to a King and you should look like it! This is the theme by which I live my life. Belonging to a King warrants that you show up accordingly on every occasion. Kingdom doesn't have to be boring! Kingdom Glamm'D Boutique offers God Approved Glamour. It is a pleasure to be able to beautify your fearfully and wonderfully made temple!